Welcome to Studio 300 Auction
Join us at Big City Galleria (formerly the Big Flea Superstore) located at 1 Ann & Hope Way in Cumberland, RI for our popular Grocery Auction!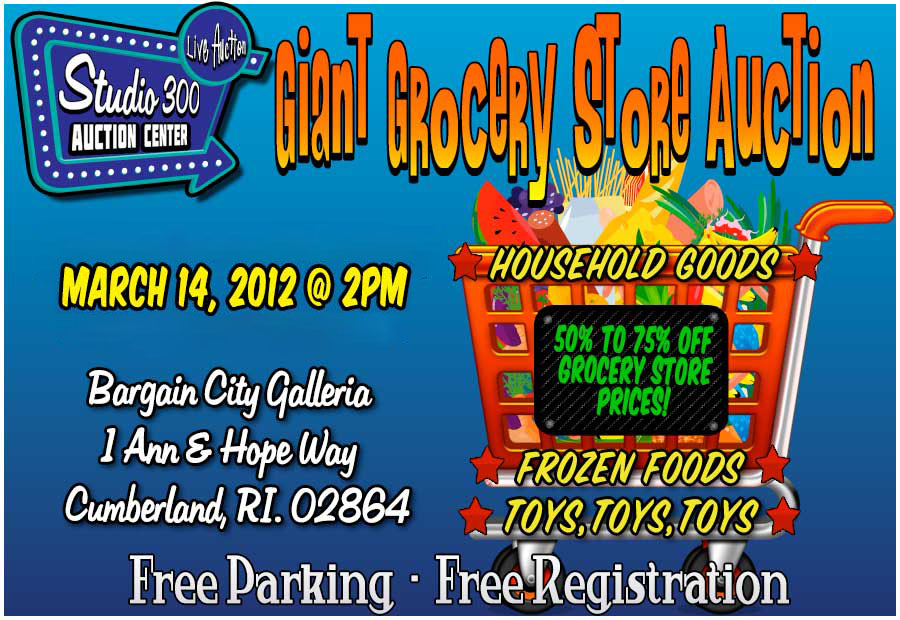 We'll have truckloads of grocery items plus general household and seasonal merchandise well below retail price! Frozen foods, breads, desserts, candies, drinks, pet supplies and so much more! Questions? Contact us today!
---
 Don't miss the GREATEST DEALS ON EARTH sponsored by Pinnacle Deals & Bargain City Galleria every Saturday & Sunday at 1PM!

---
 We want to partner with YOU to auction your items!
Studio 300 Auction is looking for EVERY KIND OF PRODUCT to auction off from electronics to power tools to home appliances to pallets of food to sporting goods to even cars! We have a large secure Facility  to hold your inventory until the day of auction!
Please get in touch with us by filling out our INVENTORY AUCTION FORM and a Studio 300 Auction staff member will get back to you within one business day.